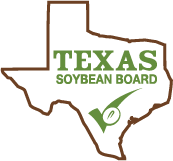 The Texas Soybean Board (TSB) is the Qualified State Soybean Board (QSSB) that administers the soy checkoff program at the state level for Texas soybean farmers.
A farmer-driven board oversees and manages TSB's share of checkoff investments, which focuses on soybean research, marketing and education to support the profitability of soybean farmers in these states.
Through the checkoff, each farmer contributes one-half of 1 percent of the price of each bushel at the first point of sale. The TSB keeps one-half of the checkoff funds collected to conduct state-specific soy research and promotion activities on behalf of farmers. The other half gets sent to the national soy checkoff.
What is the soy checkoff?
Like farmers of other commodities, such as beef, dairy and eggs, soybean farmers collectively invest a portion of their product revenue to fund research and promotion efforts. This collective investment is called a checkoff.
The funding is available through an assessment program, approved by the U.S. Congress in 1990. Checkoff funds work to increase the value of U.S. soy meal and oil, to ensure U.S. soybean farmers and their customers have the freedom and infrastructure to operate, and to meet the needs of U.S. soy's customers.
The United Soybean Board (USB) directs the soy checkoff's national efforts. USB consists of 69 farmer-directors from across the country.  These volunteers invest checkoff funds in projects to benefit all U.S. soybean farmers. USB's farmer-directors are nominated by their state-level checkoff organizations and appointed to the national board by the U.S. secretary of agriculture.
How does the soy checkoff help individual soybean farmers?
Providing farmers with cutting-edge research on soybean production is one of the soy checkoff's most important jobs. The checkoff funds variety trials, test plots and collaboration with university researchers to provide farmers with valuable information that helps them make informed crop-management decisions and improve their bottom lines.
TSB also supports the sustainability of U.S. animal agriculture, the No. 1 customer for soy meal.
On a broader level, the soy checkoff helps grow existing markets for soy and create new ones through marketing, research and commercialization programs. The federal law that created the soy checkoff requires a return-on-investment study to be conducted every five years. The most recent study determined that the checkoff returns $6.40 to soybean farmers for every dollar they invest.